Stereolab Poised To Drop New Material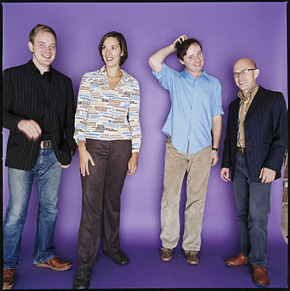 BILLBOARD
"
STEREOLAB
will unveil six new songs this fall on three separate seven-inch vinyl singles and as digital downloads. Due Sept. 13 via the veteran act's new partnership with
DUOPHONIC/TOO PURE
, the material comprises the tracks
'Kyberneticka Babicka Pt.1,' 'Kyberneticka Babicka Pt.2,' 'Plastic Mile,' 'I Was a Sunny Rainphase,' 'Interlock'
and
'Visionary Road Maps.'"
"Meanwhile, work is continuing on Stereolab's next studio album, which is being eyed for an early 2006 release. A North American tour will likely follow."
Don't forget
OSCILLONS FROM THE ANTI-SUN
, an excellent box set (3 CDs + 1 DVD) recently released by Stereolab.