Red Hash Returns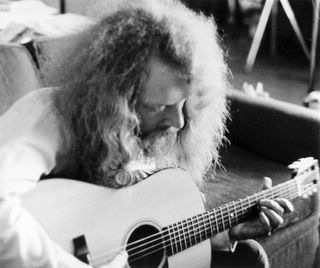 NY TIMES
Daydreams From the Land of the Obscure
By KELEFA SANNEH
On Saturday night at the Lower East Side club Tonic, the room was full of young fans eager to see a not-so-young singer named Gary Higgins. The fans wanted to thank Mr. Higgins for the obscure album he released in 1973, full of mutant folk songs that sound both earthy and spaced-out. And they wanted to thank Mr. Higgins, too, for the lack of albums he has released since then.
The stereotype about record collectors is that they care more about scarcity than about music. All they want is something like this: an impossible-to-find album called "Red Hash," recorded by an unknown Connecticut longhair. But when the indie-rock label
DRAG CITY
tracked
down the retired singer and reissued the album on CD, collectors seemed pleased that more listeners would get a chance to hear Mr. Higgins.
What collectors and cultists often want isn't scarcity but consistency. Fans of Mr. Higgins don't need him to stay obscure, but they do need him to stay the same. They wanted to see the same smiling, half-shadowed face from the record cover; they wanted to know that Mr. Higgins has endured just as his music has; they wanted confirmation that he hadn't, say, shaved his beard and devoted himself to jazz fusion. And during Saturday's show, they got their wish.
If Mr. Higgins wasn't ahead of his time when "Red Hash" was released, then perhaps some of today's young folkish weirdos are behind theirs. In any case, fans of Joanna Newsom or Animal Collective should have an easy time falling in love with the album, which unfolds as a series of cyclical strummed melodies and lyrics that float by like ominous daydreams. The seductive first song is "Thicker Than a Smokey," where Mr. Higgins murmurs, "Honey I'll be hustlin' to make up slack/ Gimme little hangin' rope/ Thicker than a smokey from a factory stack/ Honey wasn't even close." He turns that last word into a falsetto note, then lets it dissipate like smoke.
On Saturday, Mr. Higgins was backed by many of the musicians who played on the album, including the cellist Maureen Wells; one of those onstage (let's not name him) looked as if he'd escaped from the movie "A Mighty Wind." Mr. Higgins took obvious pleasure in "Down on the Farm," a dirty joke in 5/4 time, delivered in a mischievous growl that evokes Captain Beefheart. And when he began "I Pick Notes From the Sky," a young, bearded fan couldn't resist shouting, "Yes!" If the fan had been waiting years to hear the song, the singer had been waiting even longer to hear the shout.